Check out these shoot-'em-up games on Steam if you want to have some fun!
For people who like arcade games, there's nothing better than a good shoot-em-up to test their skills. This type of game began when Taito released Space Invaders in 1978 to a gaming audience that wasn't ready for it.
This type of game has been popular in video games ever since. It has changed over the years from simple single-screen games to complicated bullet hell assaults on the senses. With so many great games in this genre on Steam, let's take a look at some of the best ones.
Sophstar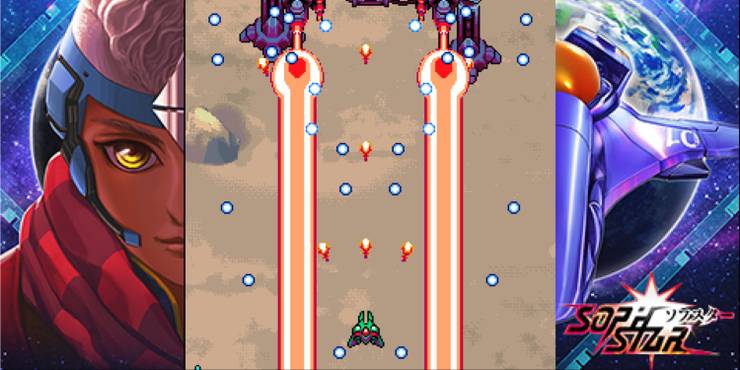 This great shooter from Brazilian creator Banana Bytes has all the fun things that make a shoot-'em-up great, plus a lot of game modes, playable ships, and challenges. Sophstar gets rid of power-ups so that the game can focus on nine different ships, each with its own set of weapons.
With nine ships that need different methods to master, there is a lot of replay value. The music is a great pace that goes well with the action, and the pixel art is both beautiful and detailed. Even people who don't usually like this kind of music will enjoy Sophstar.
Zero Wing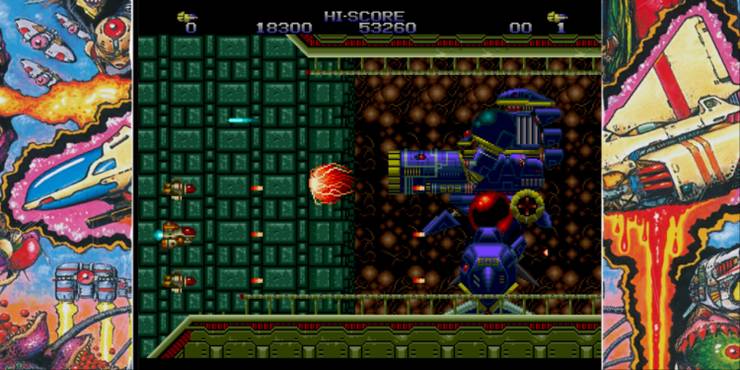 Even though the famous "All Your Base Are Belong To Us" line is translated badly in some moments, Zero Wing is still a great shooter years after it came out in 1989. Bitwave Games' Steam version has a lot of new features that make it better than the original.
This is the best way to play this arcade classic, with save states, different levels of challenge, and better game play. People who want the original, hard-core gaming experience can just turn off everything new.
Dead End City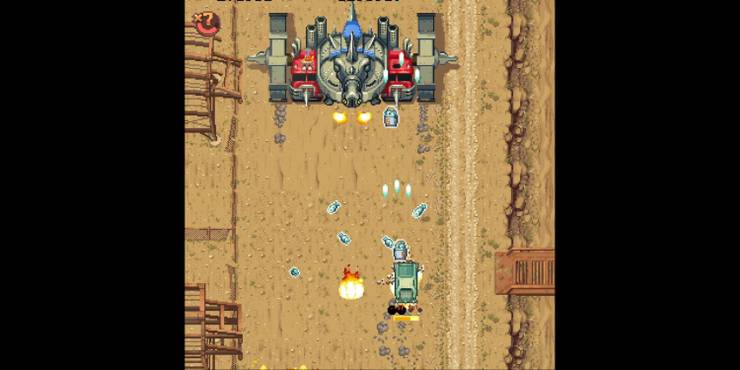 Have you ever thought about what would happen if Mad Max and Galaga got together? If so, Dead End City might be a good example. This is a great example of a modern shmup with a nice look. The characters are crazy, and the game system is easy to learn.
You don't get extra lives; instead, you keep the game going by getting gas for your car. If you want to get high points, the well-thought-out weapons system will please you. But Dead End City is also a great shooter that anyone can enjoy.
Ikaruga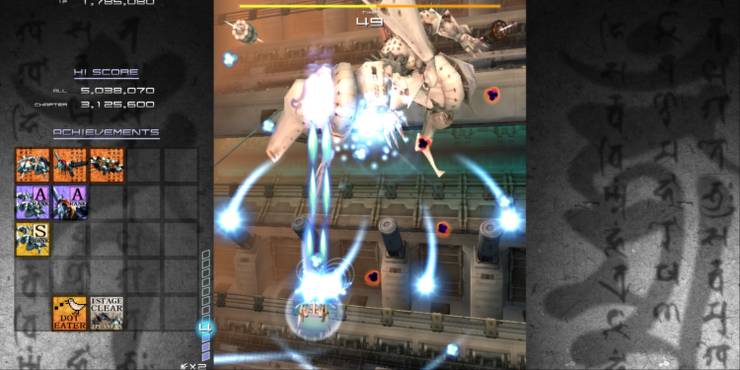 Shoot-em-ups can sometimes take you on a different kind of journey and give you a one-of-a-kind experience that has never been seen before. Ikaruga is one of these games because it has puzzle-like parts that you have to figure out in order to beat the game.
When you switch polarities, you have to think about each wave of enemies, and after some practice, there is a lot more to learn than just shooting and exploding. The art and music in Ikaruga are also very good, and you can enjoy them on their own.
Steredenn
When it came out in 2015, Steredenn won a lot of awards. It was a modern take on the genre, and the levels are created at random to keep things interesting. Because it's a roguelike, this shooter has a lot of detail that you might not expect, and the different weapons add a layer of strategy to the mix.
It pays homage to the best years of the genre with bold, bright, and very well drawn pixel art that is small but very detailed. The music is also very bass-heavy and moves quickly, keeping you on the edge of your seat.
Eschatos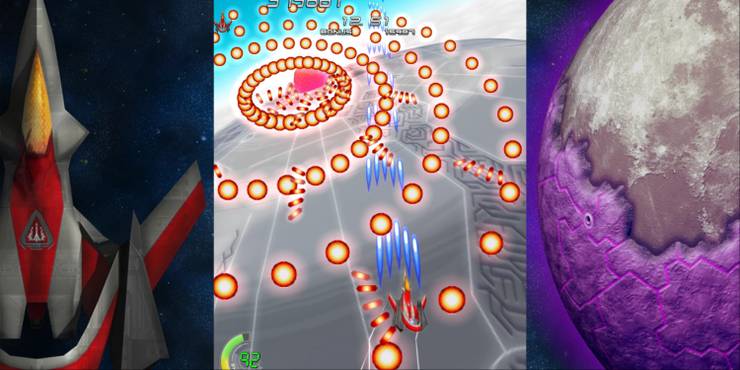 Shoot-em-up games can be hard for newcomers to understand because of how hard they are to beat and how complicated the score systems are, but there are games that can help you get used to them. For people who don't know where to begin, Eschatos is the best place to start.
It has a "easy" mode that slowly teaches the basics of the genre and lets you shoot without having to worry about more complicated moves. You have a lot of extra lives, and if you die, you don't have to start the game over. As a visual treat, Geometry Dash Subzero is also very interesting and well put together.
Steel Empire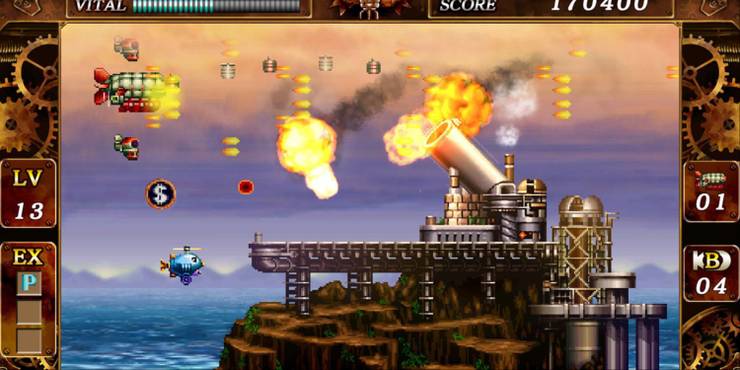 A lot of shoot-em-ups take place in space and are full of laser guns and monsters. Steel Empire takes place in a different fantasy world that is kind of like the world during World War I. Today's news is all about huge steel skyships, machine guns, and steam trains. The presentation is great, and the story is started with old-school black-and-white effects.
You can choose between two ships: a strong but slow blimp or a fast propeller plane. Each has its own way of attacking. The latest version on Steam is a remake of the original platform game from the 1990s. It has all the features you'd expect from a shooter game today.
Truxton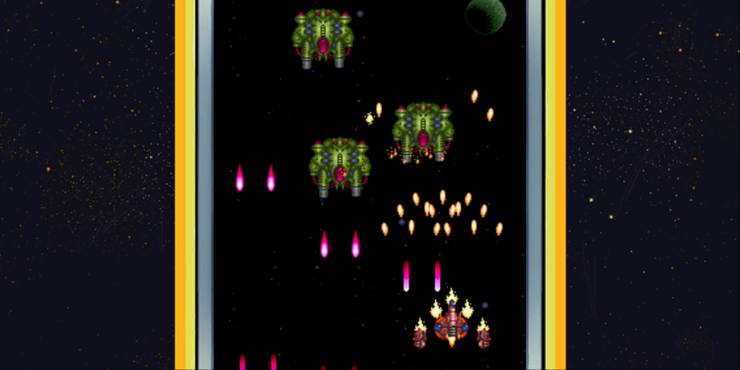 Toaplan, the creators of the classic arcade game, have updated it with new save states, challenge settings, and game modes that let you tailor your experience. Even though it's a simple game, it has all the tasks you need to see how good you are.
Truxton is harsh, so casual shooter fans and people who are just starting to play them should stay away. Veteran gamers, on the other hand, will enjoy the tough action. This one may look retro with its old-school graphics and power-up system, but it still packs a powerful punch.
Super Galaxy Squadron EX Turbo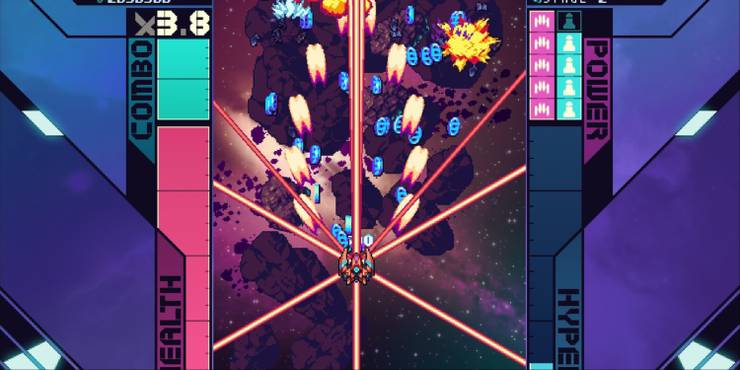 With its tight gameplay and beautiful pixel art, Super Galaxy Squadron EX Turbo takes all the best things about shooters and makes them fun for both newbies and seasoned veterans. It also has a full voice cast and a story that is pretty deep for a shmup.
Super Galaxy Squadron EX Turbo can also be played over and over because it has extra modes that go along with the main story. There is more than enough to keep you happy for a long time in this Steam version, which comes with the original game Super Galaxy Squadron.
R-Type Dimensions EX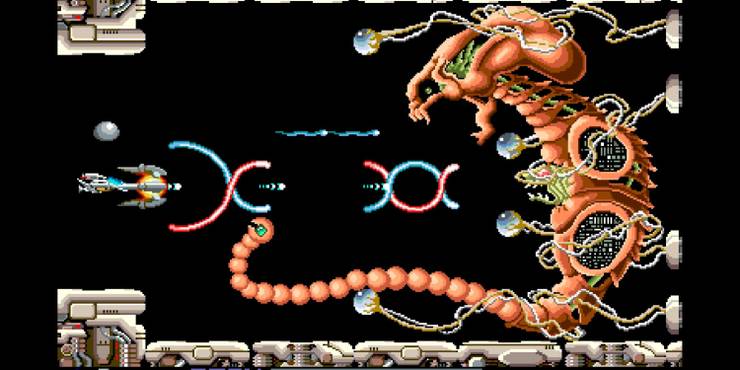 The R-Type series is a well-known name in shoot-em-up games, and this Steam remake includes the first two games in the series. If you want to play, you can switch between the shiny new 3D graphics and the old 2D pixel art. You'll need to learn the waves and keep practicing no matter what style you choose because the game is so tough.
Not only have the pictures been improved, but there are also new gameplay settings that let you change how the game feels and how fast or slow the action moves. Even with the changes made by Steam, R-Type is still one of the best fighters.