With these Halloween mods, you can really enjoy Halloween in Minecraft!
For many years, Minecraft has been one of the most famous games. One big reason for this is that players can make their experience very unique. Mods can change everything from small things that affect your quality of life to the way you play the game, giving it a whole new feel if it gets old.
With Halloween coming up quickly, one fun way to make your worlds more interesting would be to use mods to give them a scary twist. Here are the best mods to add a scary touch to your next Minecraft game, ranging from very scary to just plain fun for trick-or-treating.
Eyes In The Darkness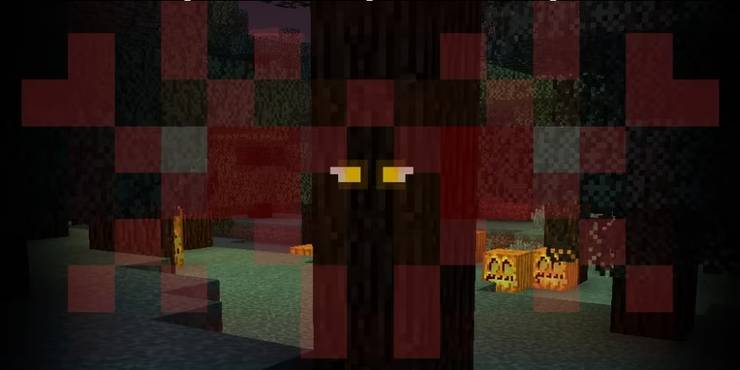 This really scary mod only adds one new enemy to the game: The Eyes. Since they lay their eggs at night, you can find them in caves or outside at night, waiting for food. It's a game of red light, green light once you look at them. As soon as you look away, they'll strike.
Even though this mod is very simple, it manages to be very atmospheric; any meeting with The Eyes is really scary. Eyes in the Darkness is a simple but effective way to add a scary element that can be found on Forge up to version 1.20.1.
Halloween LuckyBlocks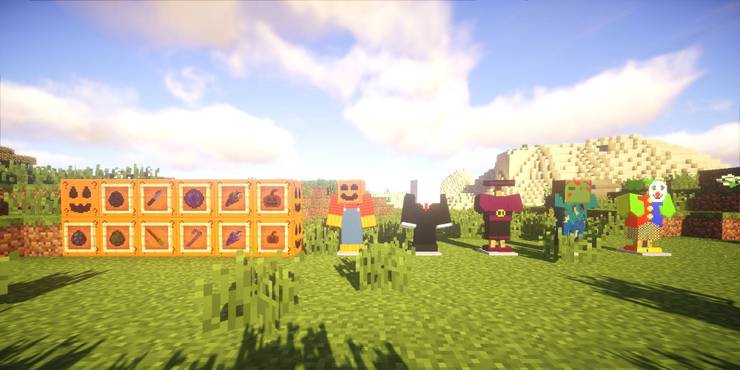 If you want to do something a little less scary, Halloween LuckyBlocks adds a bunch of Halloween-themed blocks, props, and costumes so you and your friends can live out your trick-or-treating dreams on your server. A witch's broom, clown and scarecrow outfits, candy bags, and a lot more are added.
You can get the mod for Forge up to version 1.20.1. It has some scary parts, like a scarier zombie version, a ghost, and a vampire, so be careful when you're dressed up for Halloween!
Whisperwoods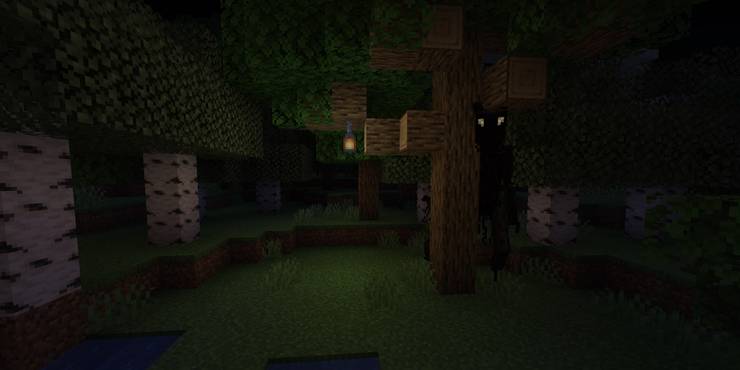 It's possible that Whisperwoods could be the answer to your new, scary trees' lack of life. There are a lot of scary mobs added by this mod, from harmless moths to the terrifying Hidebehind, a quiet stalker who likes woodsmen. There is also a miniboss ghost deer, vampire bats that live in caves, and (mostly) nice wisps.
Creamy Vanilla There are some scary mobs in Minecraft, but Whisperwoods is the scariest one yet. As of Forge version 1.19.2, the mod works with the game. If you want to hunt or be hunted by some real horrors, give it a try.
Vampirism – Become A Vampire!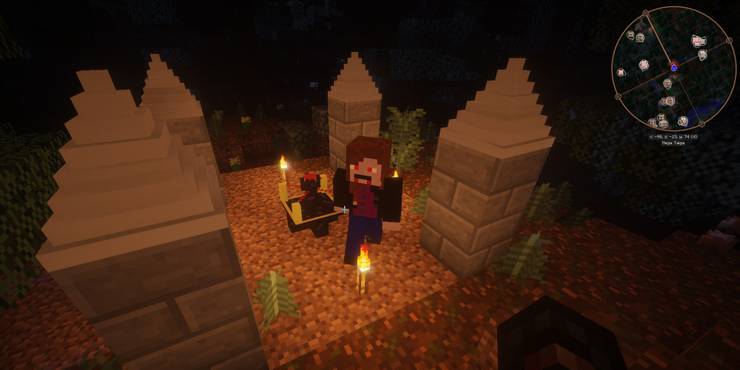 It's called Vampirism, and it adds vampires to the game. If one of them bites you, you'll turn into one and get all the skills that come with it. As you drink more blood from animals and other people, you'll get stronger, but the sun will also make you more vulnerable.
It also adds the vampire biome, which is home to bloodsucking bats that need to be killed for rituals, as well as vampire hunters NPCs to keep towns safe. Vampirism is the best scary mod for you if you want to do some bloodsucking fun.
Pirates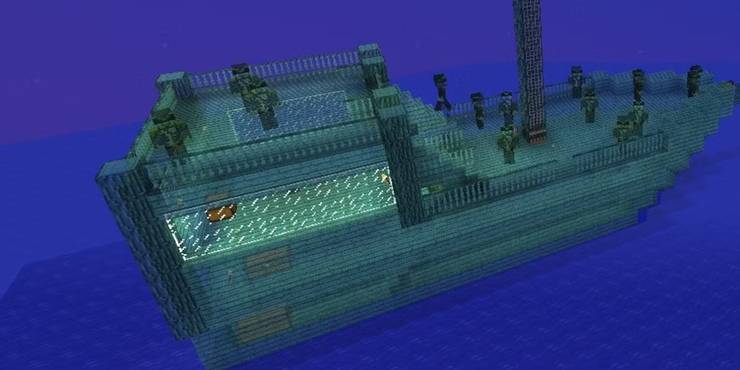 People often think of werewolves, skeletons, and vampires when they think of Halloween. But ghost pirates are just as scary and don't get as much attention. Thanks to the Pirates mod (for Forge version 1.12.2), they can get the love they deserve.
The ghost ship structure appears in the oceans and is occupied by whole spooky crews that you must defeat to get lots of loot. There is also pirate-themed stuff like telescopes, rum, guns, and a lot more added by the mod.
Bewitchment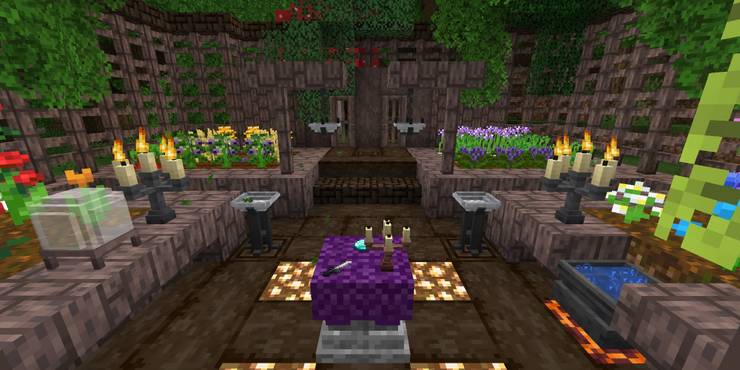 There is no Halloween list that is complete without the chance to join a group, and Bewitchment gives you that chance. You can also turn into a werewolf or vampire if you'd rather.
There is a lot of scary stuff in this mod, like flying broomsticks, occult practices, scary expansions, brewing, and trading. Because it adds so much, the mod is great for Minecraft players who want to get into all things scary.
Cozy Comforts
What a great way to unwind after all the scary mods or even just standard gameplay! If it all seemed too much, why not sit around the campfire, make some s'mores, and carve some pumpkins?
Cozy Comforts is a mod that focuses on the fun side of Halloween. It lets you make fancy campsites and cut your own designs into pumpkins instead of the vanilla face that comes with Snow Rider 3D. This mod is the perfect break from all the scary Halloween stuff while still staying in the spirit of things that are creepy.
True Darkness
Even though it can be scary in Minecraft at night, you can still get things done because you can still see. You can have a completely dark night and reach caves that aren't lit up with this mod.
The amount of moonlight at night changes as the moon's phase changes. New moons are especially scary. This mod will also make it hard to get around in caves at night. You will not only have restricted visibility and a dark screen, but you will also not be able to see any of the monsters that are inside.
Doctor Who – Weeping Angels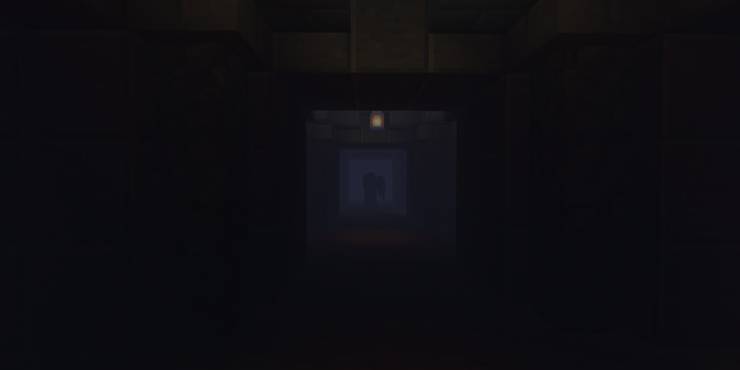 Weeping Angels are a famous monster from Doctor Who. They only move when you look away. This includes blinking, which is where the saying "Don't Blink" came from. Even though these angel figures have been around since 2007, they are still very scary. Now this is ready to be added to your Minecraft account.
In this mod, Weeping Angels can show up in the Overworld. Be very careful when you see one. If you turn your head away and are caught, you will be moved to an unknown place. The Timey Wimey Detector can help you tell when they are nearby.
The Midnight
The Midnight, which is a mod that gives the world a whole new layer, lives up to its name. In this place, everything is different and pretty unfriendly, but it also looks strangely beautiful.
There are many new biomes inside the Midnight, such as the Fungi Forest, the Crystal Spires, and the Great Caverns. You can choose to go through a rift to the Midnight, or a strange Rifter monster can pull you there against your will.
Scape And Run: Parasites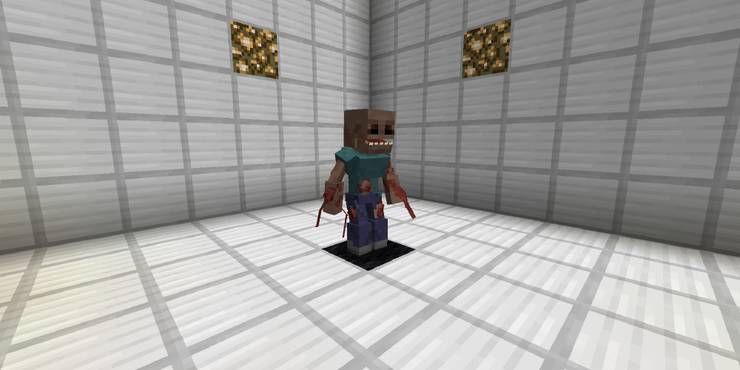 Finally, we have Scape and Run: Parasites. With this creepy mod, parasites are added to the game. These parasites can grow over time, getting bigger and stronger.
Because of bugs, Minecraft will become a much more dangerous place to be. You will always need to watch your back. If you protect yourself from a bug without killing it, it might learn from the battle and come back to get you!