The best games on the Nintendo Switch Online service are these old Super Nintendo games.
It's possible that the Super Nintendo has more memorable and well-liked games than any other system. Nintendo brought new life to the video game industry with the NES, but it wasn't until 16-bit graphics came out that the company made some of its best and most important games.
Through the Nintendo Switch Online service, owners of the Nintendo Switch can play a number of SNES games. Plus, there are so many games already on the app that it can be hard to choose. New games are added every month. If you want to relive the good old days or start a new adventure, these Super Nintendo games are timeless and fun to play now as they were back in the 1990s.
Star Fox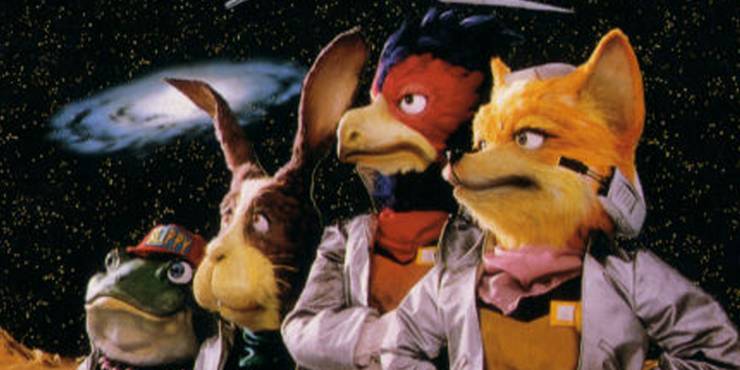 One of the first games on the Super Nintendo to use polygonal graphics to make 3D models and landscapes was Star Fox. At the time, it was a technical wonder and a very important game in Nintendo's long history. But now, what was amazing back then seems a little old-fashioned.
Even though this is their first adventure, it's still fun to see Star Fox and his humanoid crew members. They add a lot of charm to what would otherwise be a pretty simple rail shooter. In order to finish the game, you need about an hour of time. If you have some free time, you should take a trip through space and history.
Super Mario Kart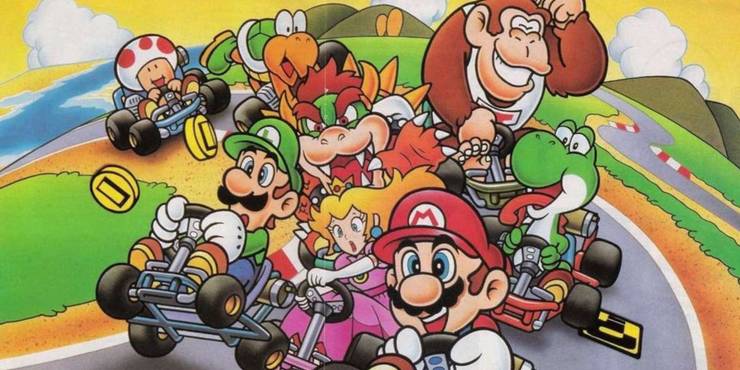 Back in 1992, when Super Mario Kart came out for the SNES, not many people thought it would be the first game in one of Nintendo's most famous and successful series. The original Mario Kart is still a lot of fun, but there are a few things that keep it from being the best Mario Kart on Nintendo Switch.
It's as easy to use and smooth to control as Mario Kart 8 Deluxe, but it's much slower than any of its siblings, so you have to be patient to get around. Another thing that makes the game feel like an older DS game is that the main action is on the top half of the screen, while a big map takes up the bottom half.
Kirby Super Star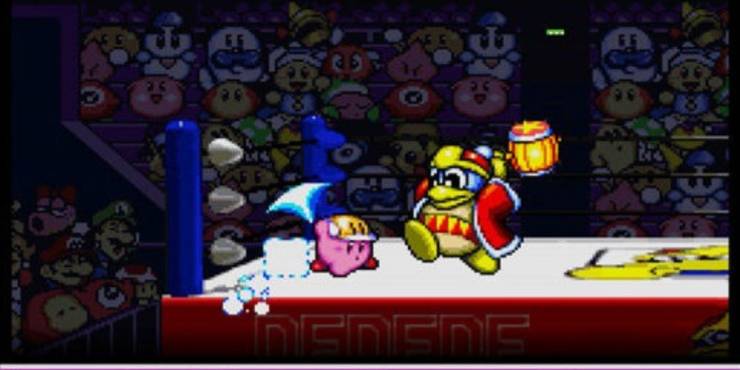 Kirby Super Star is one of the most interesting SNES games ever made. In Super Star, you can play through a lot of different journeys, minigames, and battles instead of just one main adventure like in earlier games. In each mode, you can play Kirby in a number of fun ways, and you can also try out new ideas that would later become standard in the series.
Super Star is full of games, such as a sort of version of Kirby's Dream Land, the Metroidvania-style Great Cave Offensive, and a lot more. Many of the game types also let you play with a friend, so you can fight the Dyna Blade or Megaton Punch together.
Super Mario All-Stars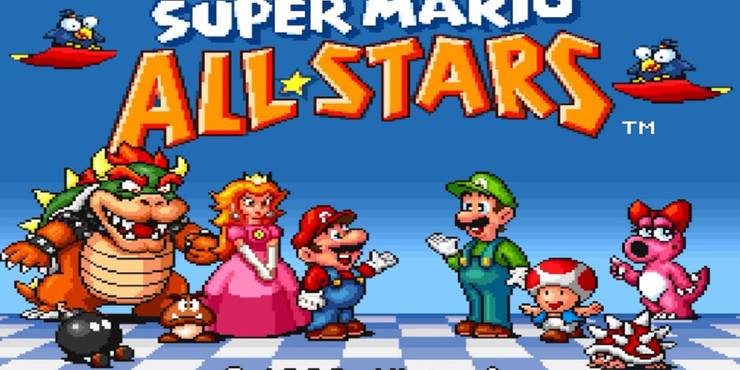 These days, it happens all the time, but Super Mario All-Stars for the SNES in 1993 was one of the first games from an older console to be remade with better graphics for the next version of hardware. It had the official versions of all three Super Mario Bros. games for the NES and Super Mario Bros.: The Lost Levels.
Super Mario All-Stars was a must-have game for the SNES, but on the Nintendo Switch, it's just another way to play these old games. You can play them through the NES library on Nintendo Switch Online. You can also play the improved versions for the Game Boy Advance, which have even more material and improvements than the All-Stars versions.
F-Zero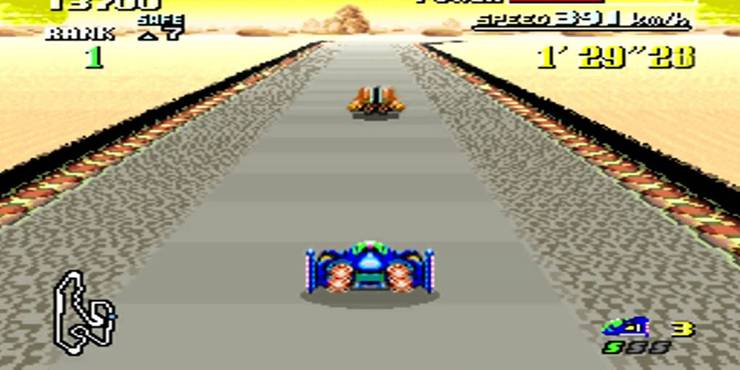 F-Zero came out at the same time as the SNES and, with its wide range of tracks and lightning-fast speed, did a great job showing off the console's new sound chip and images. The future setting of F-Zero makes it one of the most visually striking racing games for the SNES. It also makes for a great setting for a dangerous race to the finish line.
Mastering the basics is one of the hardest things for people who have never played F-Zero before. It takes some time to learn how to stay away from other cars and objects in fast races, but the Nintendo Switch's "rewind" feature makes the process a lot less frustrating. You can't play it with other people, but you can use the N64 service to play F-Zero X with friends.
Mario's Super Picross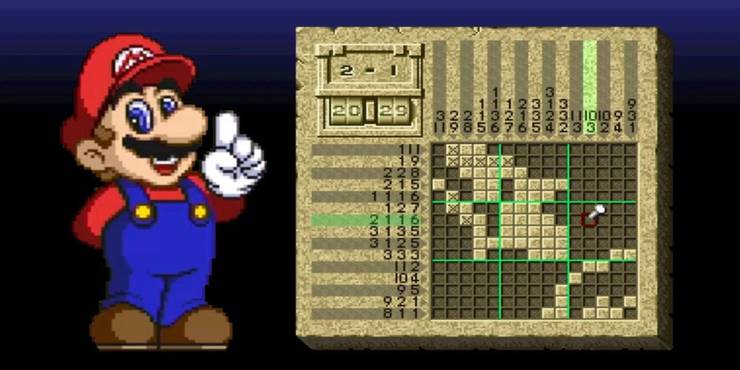 For the Super Nintendo, there are a lot of great platformers, JRPGs, and action games. But there are also some great puzzle games that you should check out. Mario's Super Picross was only ever available in Japan, but it's now available in the West through Nintendo Switch Online.
You might not be able to watch Mario's Super Picross on TV for hours on end like some of the other games on this list, but it's still a great puzzle game to play on short trips or before bed. Its tutorial levels are great for people who have never played Picross before, while the Wario levels have tougher puzzles for people who have played the game before.
Donkey Kong Country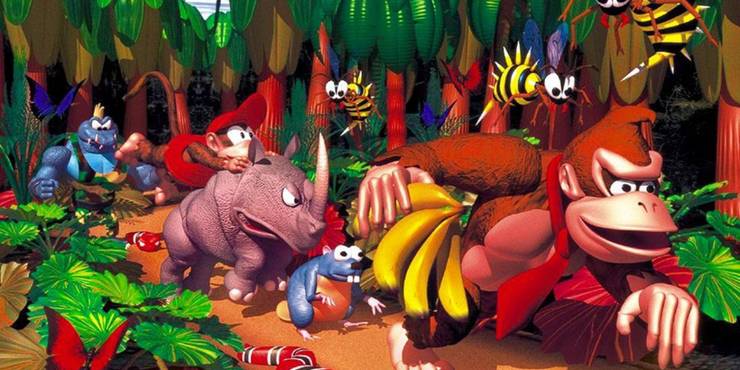 Rare amazed people with Donkey Kong Country, which was one of the first home computer games to use graphics that had already been made. The makers were able to use 3D models on the Super Nintendo thanks to this technology. This made Donkey Kong Country stand out, both for how hard it was to play and how unique it looked.
For people who thought Super Mario World was too easy, the Donkey Kong Country games are great. Sometimes the tight platforming is annoying, but there aren't many things that feel better than beating a hard mine cart stage. The original Donkey Kong Country is the most well-known of the three games that can be played on Nintendo Switch Online. All three have some of the best music and gaming on the system.
Super Punch-Out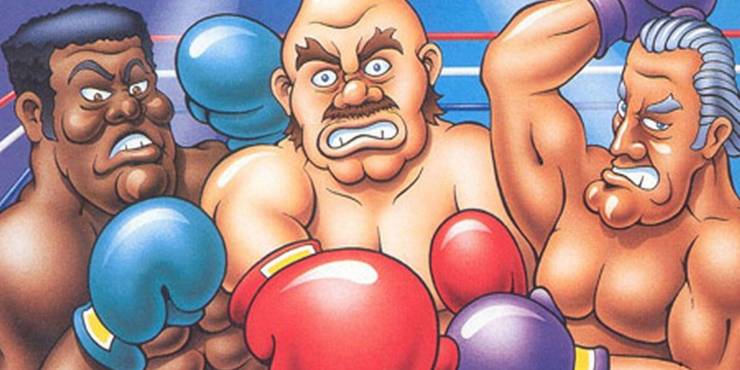 People may not remember Super Punch-Out as fondly as its predecessor, but it is still one of the best SNES games because it has better graphics and a great soundtrack. The gameplay that made the first game so popular was kept, but everything else was made better, from the graphics to the different types of enemies.
In this game, you play as Little Mac again as he tries to win the tournament. Running through mazes of tough enemies in Super Punch-Out will test your speed and patience. But with the Switch's rewind and stop point features, it can now be a little easier.
Donkey Kong Country 2: Diddy's Kong Quest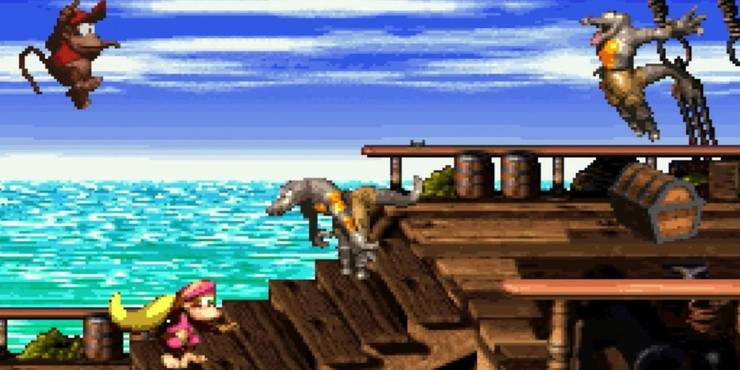 Once the first Donkey Kong Country game did well, Rare kept making follow-ups for the SNES that built on the gameplay and ideas from the first game in creative ways. Donkey Kong isn't a playable character in Donkey Kong Country 2, which comes as a bit of a surprise. However, putting Diddy and Dixie Kong in the lead was a brilliant move that paid off.
The graphics in Diddy's Kong Quest are just as good as they were in the last game, and each stage is pretty hard and will test your patience. Even though it doesn't have any famous songs like Aquatic Ambiance, David Wise's score is still amazing and full of unique songs that you will keep playing over and over in your head after you finish this great platformer.
Donkey Kong Country 3: Dixie Kong's Double Trouble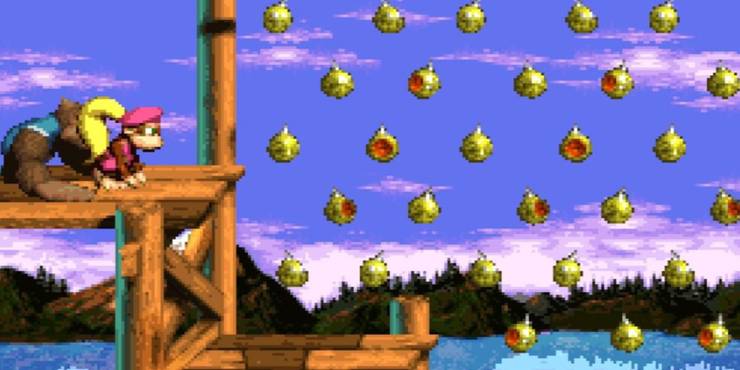 Rare kept making Donkey Kong Country games, and by the end of the great trilogy, they had fine-tuned and perfected the concept. Changing one of the main characters, this time from Diddy Kong to Kiddy Kong, helped keep the gameplay fresh between games, and the levels are just the right amount of hard and playable again and again.
Again, Donkey Kong Country 3's graphics make the world feel real, and it's easy to get lost in it. The characters, both good and bad, are animated really well, and the boss fights are hard and fun to remember. A wise person once said, "Save the best for last." In video games, the Donkey Kong Country trio is one of the best examples of this.
Earthbound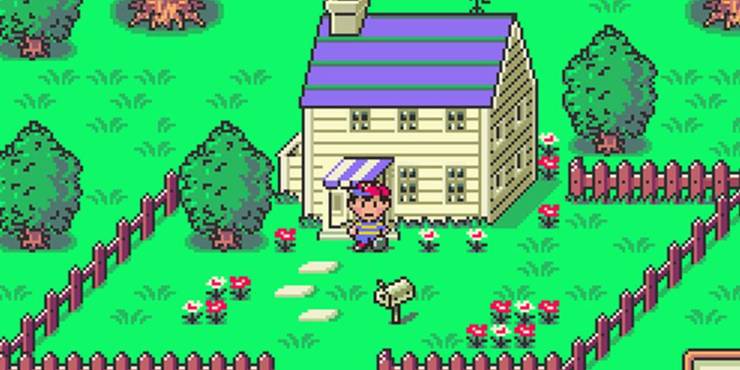 The only JRPG you can play right now on Nintendo Switch Online is Earthbound, and it's also the best game on the service. Earthbound is about Ness's journey through an abstract version of Western society. To save the world, he has to fight cults, piles of puke, and the powerful alien Giygas.
Over the years, Earthbound has become a cult favorite. Even though it didn't sell well when it first came out, adding Ness to the original Super Smash Bros. made him much more famous and brought a lot of new players to the series. Earthbound Beginnings, which came before Earthbound, is also on the Switch through the NES service, but it's not nearly as fun or famous as Earthbound.
Super Mario World 2: Yoshi's Island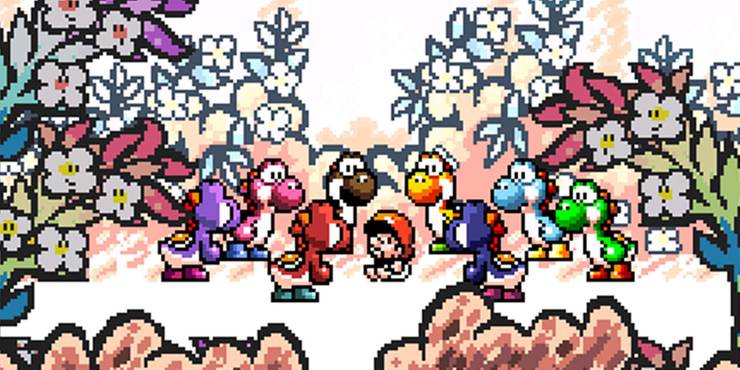 We met Yoshi in Super Mario World. He was a dinosaur that Mario could use to rise above enemies or change them into mushrooms. Even though Yoshi was very famous when it first came out, it was still strange when Nintendo said they would be the stars of the next Super Mario World game. The Yoshis were in danger, but Mario saved them. Now it's their turn to be heroes.
The graphics in Geometry Dash World were praised for being realistic and engaging. To make Yoshi's Island stand out from other SNES games, Nintendo chose to give it a hand-drawn look. It was the first game to make the bright dinosaurs the main characters and show off their famous flutter-jump and egg-tossing moves.
Super Mario World
When the Super Mario World came out, it set the standard for what other games would be like for the rest of the console's life. It looked so much better than the Super Mario Bros. games from the NES era, and the gameplay had never felt better. There are secrets and shocks in every level that are still being found decades later.
In Super Mario World, we met Yoshi, and the game also added some powerful new moves, like the Cape Feather, which lets Mario fly or glide across an area with ease. It has songs from other games that you may know, but they have been rearranged and improved to work better with the SNES's powerful sound chip.
Super Metroid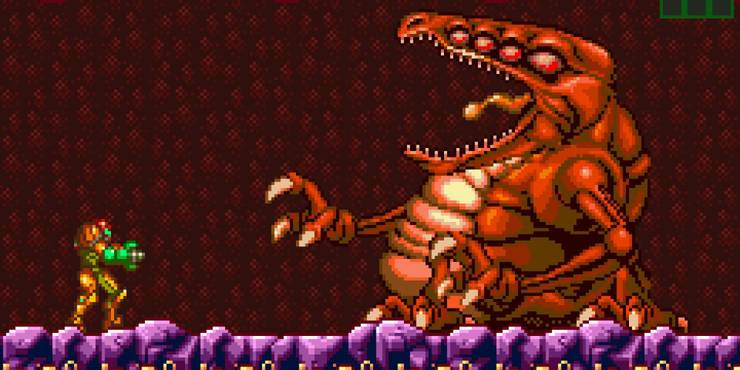 Nintendo made a lot of games for the Super Nintendo that have bright colors, interesting figures, and happy music. One of the few games that doesn't do this is Super Metroid, which puts you on a barren planet full of dangerous enemies and hidden things. Super Metroid is one of the most important and enduring games ever made, even if it can be scary at times.
After her last journey, where she saved the last known Metroid, Samus gives the baby to a group of scientists so they can study its special abilities. For a short time, Ridley makes things worse by stealing the Metroid and going to a faraway world with it. Samus has to find her way around Zebes, a very dark world, to stop the deadly species from coming back to life.
The Legend Of Zelda: A Link To The Past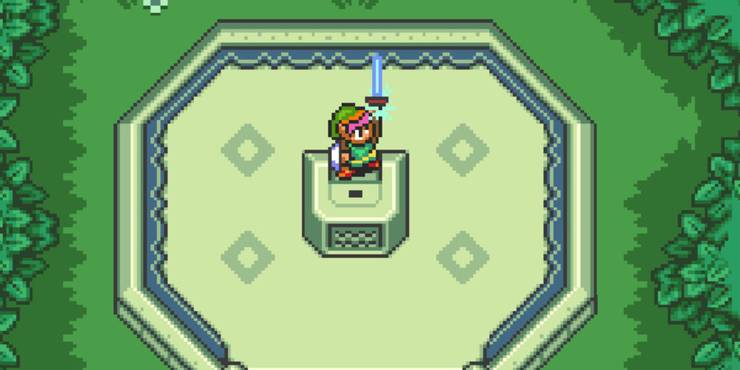 The first Legend of Zelda games for the NES were some of the best games for that system, but they are hard to enjoy now because they have a lot of confusing tasks and secrets. Like many SNES games, A Link to the Past feels like it has been around for a long time. It's still fun to play today, even though it came out in 1992.
Some of the best dungeons and major fights in the series' nearly 40-year history can be found in A Link to the Past. It also introduced ideas that would become mainstays of the series, like parallel worlds. It's a game that lasts longer than I thought it would, but the beautiful graphics and music make it feel like a magical experience the whole time. The grip won't let go until you save Hyrule from Ganon's evil rule.